DEWITT COUNTY
Another wind farm in DeWitt County? A look at the plans.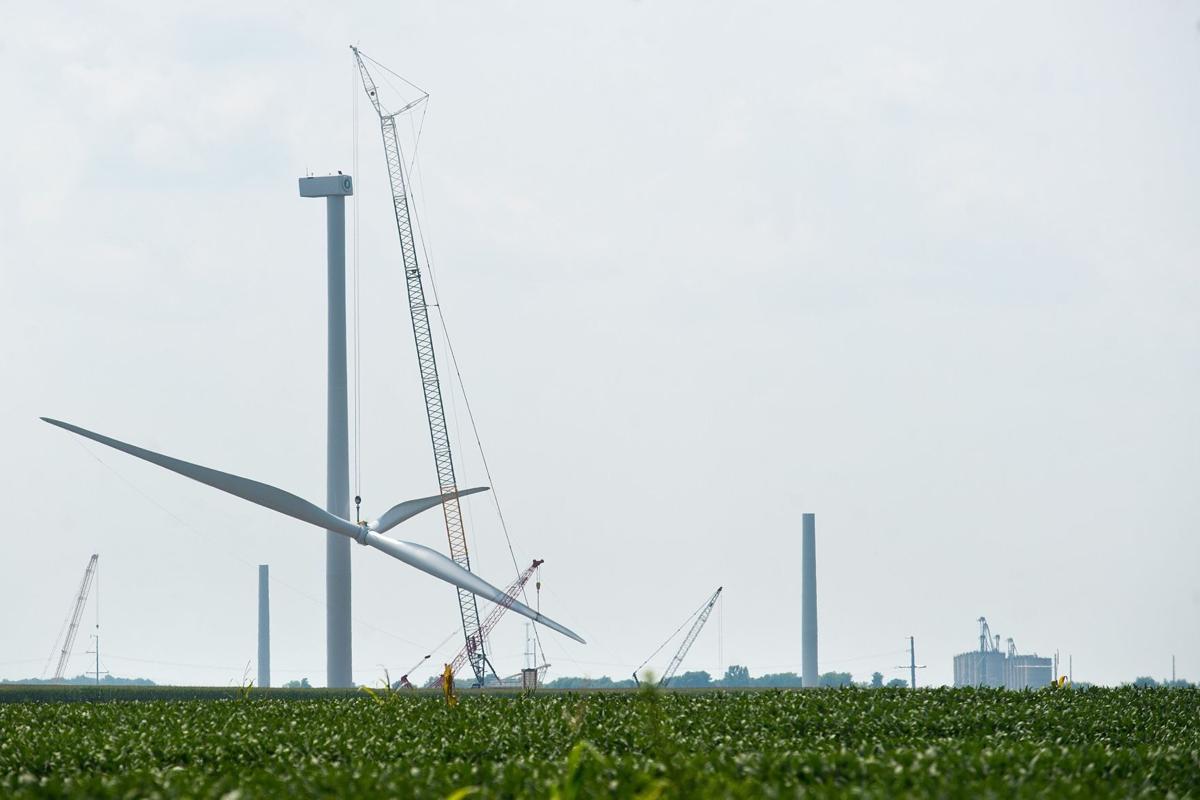 CLINTON — Another wind farm is looking at DeWitt County as a potential landing spot for a project.
Letters to land owners in Wilson Township in the northern part of the county were sent in October by a land agent representing Engie North America, a Houston, Texas-renewable energy company, specializing in developing wind projects.
"Engie is interested in developing the BlueBird Wind Project in DeWitt County because of the excellent wind resource and existing electrical transmission infrastructure in the area," writes Cheryl Sun. "We believe that the land you own in our proposed project area has good characteristics for development."
Messages left for Sun and for the press office at Engie North America were not returned.
In July, the county approved its first-ever wind farm, the Alta Farms II project in Barnett, Wapella and Clintonia townships. The board voted 6-5 in favor of the project, but three members who voted for the project were voted out of office in the November election. A fourth member, who did not vote because of a conflict of interest, was defeated in the spring primary.https://2853a07e31a93d508edbb56bb3e0caad.safeframe.googlesyndication.com/safeframe/1-0-37/html/container.htmlTop ArticlesTiger Woods' son makes TV debut andplays like dad
READ MORE
READ MORE
READ MORE
READ MORE
READ MORE
READ MORESKIP AD
DeWitt County Board Chairman Terry Ferguson said he saw a social media post about the company contacting prospective landowners, but doesn't know much else.
Support Local Journalism
Your membership makes our reporting possible.SALE! Subscribe for $1/mo.
"They haven't contacted us as far as I know," he said.
Zoning Administrator Aaron Paque also has not been contacted.
"We have not had any formal contact with anybody representing that company," he told The Pantagraph.
Construction on the Alta Farms II project is slated to begin in 2021, but two lawsuits have been filed in DeWitt County to stall the project.
Enel Energy, formerly Tradewind Energy, has filed a motion to dismiss both lawsuits. The motion on the lawsuit filed by the Village of Wapella will be heard on Feb. 24 in DeWitt County. A hearing date on the other lawsuit, filed by opponents of the wind farm, has not yet been set.
Got an opinion on wind farms? So do our letter writers
Got an opinion on wind farms? So do our letter writers.
Wind farms … Either you love them, or you hate them. Check out past letters written to us on the topic.
The DeWitt County wind farm proposal is still the same thing in the same place, within the 'mitigation zone' of NWS Doppler radar. Why not cal…
On Dec. 2, I attended the DeWitt County ZBA meeting where they discussed a group of anti-wind farm ordinance amendments. I was appalled by the…
I am writing in opposition to the Alta II Wind Farm project in DeWitt County. It is obvious the proponents of this project have failed to do a…
I am writing to voice my support for the Alta Farms wind project in DeWitt County. I am a resident and I believe this is a tremendous opportun…
All residents of DeWitt County are charged with maintaining the county's agricultural heritage and rural atmosphere, preserving prime farmland…
I am a landowner who lives in rural McLean County and I host two wind turbines on my land as a part of the Twin Groves Wind Farm. I have been …
I am a 10-year supporter of the Alta Farms Wind Project who feels that we need the new funding it provides for our schools, our fire departmen…
The five DeWitt County Board members who voted against Tradewind's wind farm apparently think our county is flush with cash, and the impending…
I am writing today in support of the Alta Farms II wind energy project in DeWitt County. I am a professor of economics and helped create the r…