Climate Tits!
DECEMBER 11, 2020tags: birds
By Paul Homewood
h/t Ian Magness
This appeared in the Telegraph the other day. It followed a similar story in the "Independent?" last month, and another from the Telegraph a couple of years ago:
A rapidly warming climate will spell disaster for swathes of life on earth, including many bird species.
A new study reveals some birds which are dependent on specific abundant food sources at certain times of year may not be able to adapt fast enough to the change to seasonal patterns the climate crisis is bringing.
The research, by scientists at the Norwegian University of Science and Technology and Oxford University, focused on great tits' dietary habits.
They found that warmer winters and subsequent early springs cause trees to leaf earlier, which in turn prompts the larvae that feed on the plants to hatch earlier, and this can present a problem to the birds.
Great tits are among many species which depend on an abundance of larvae available when their chicks are newly hatched and growing.
https://www.independent.co.uk/environment/climate-change-birds-great-tits-extinct-b1720406.html
Warmer springs are leaving birds hungry because they hatch after the caterpillar population has peaked, experts have warned.
The Universities of Exeter, Edinburgh and Sheffield found that the emergence of chicks is 'increasingly mismatched' with their main food source of oak caterpillars which are only active for a few weeks.
After that, they typically fall from the trees and pupate, transforming into moths by November.
Researchers found that Great tits were on average two days later than the caterpillar peak, Blue tits were on average three days later, while Pied flycatchers hatched 13 days too late.
"Forests have a short peak in caterpillar abundance, and some forest birds time their breeding so this coincides with the time when their chicks are hungriest," said Dr Malcolm Burgess, of the University of Exeter and the RSPB.
"With spring coming earlier due to climate change, leaves and caterpillars emerge earlier and birds need to breed earlier to avoid being mismatched. We found that the earlier the spring, the less able birds are to do this.
https://www.telegraph.co.uk/science/2018/04/23/warming-climate-leaves-birds-hatching-late-caterpillar-harvest/
The key month for determining whether trees leaf early and how early insects appear seems to be March. (After all, I know of no way trees and butterflies can predict in March what the weather will be like in April or May!)
This is borne out by the Woodland Trust's Spring Analysis this year:
https://naturescalendar.woodlandtrust.org.uk/
Note that insects appeared 23.2 days early in 2019, against 16.4 days this year and 1.4 days late in 2018. This tallies with the temperature record: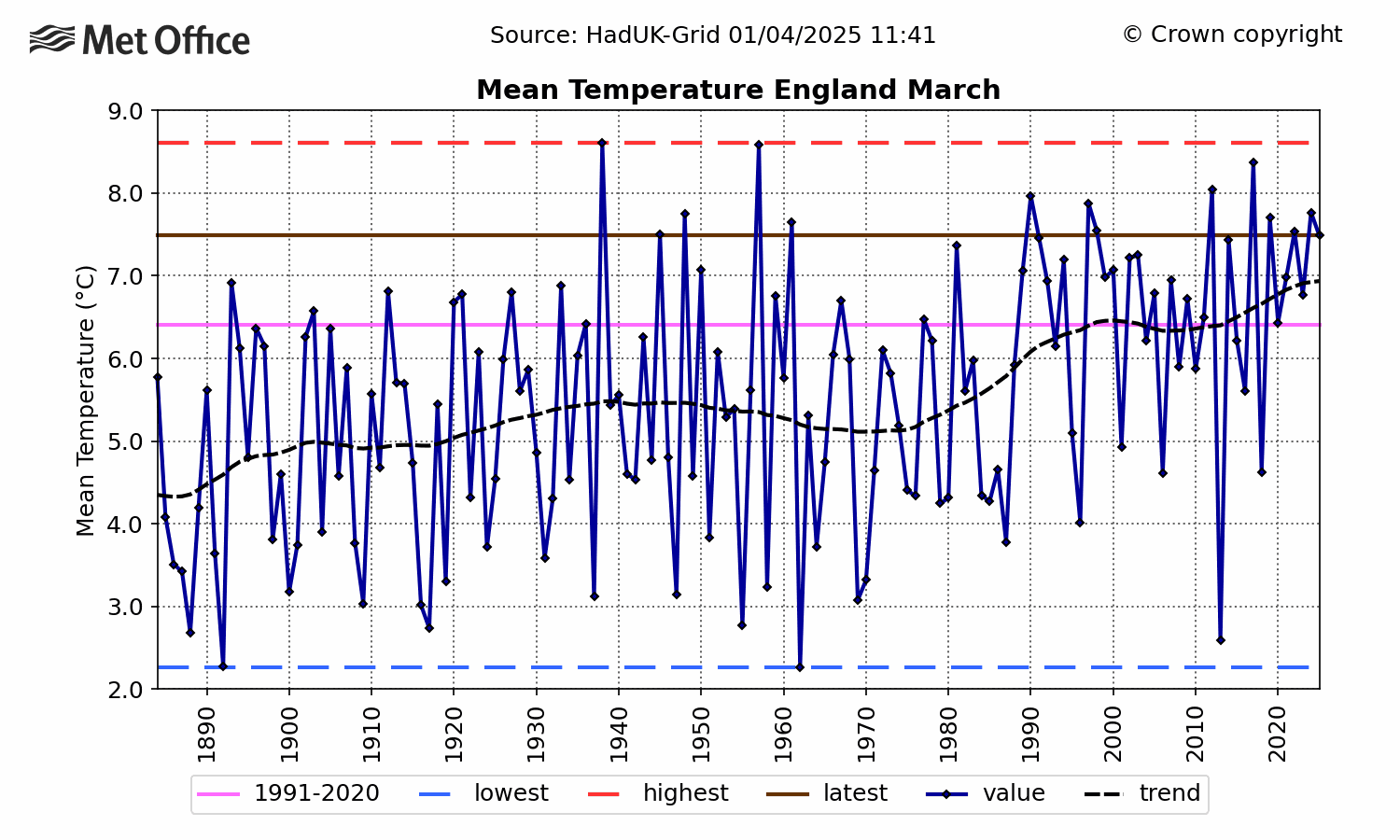 https://www.metoffice.gov.uk/research/climate/maps-and-data/uk-temperature-rainfall-and-sunshine-time-series
You will notice of course that the warmest Marches were in 1938 and 1957, rather putting the kibosh on the global warming argument!
But what really does stand out is the huge year-on-year variation, which can be as much as 6C. If insects and birds can manage to survive this weather variability, I am sure they won't have any problem dealing with a degree of change over 30 years.
The reality is that weather has a much bigger impact on butterflies, including rain, snow, storms, and not just in the month they first appear as caterpillars. For instance, a mild March may bring insects out early, but a cold, wet April can cause much harm.
What none of these supposed nature experts seem to understand is that nature is far more resilient than they give it credit for.
Insects quickly adapt to changing weather conditions, and can readily move from one flower to another as they bloom during the season. Similarly, most birds feed from a multiple of different sources, which they can adapt to as circumstances change from week to week.
Above all, nature has its own self-balancing mechanism. In this case, if fewer caterpillars are eaten this year by birds, there will be more butterflies and consequently more caterpillars next year, thus allowing bird populations to thrive in turn next year. In turn, more birds means fewer caterpillars next, beginning the whole cycle again.
But you don't have to take my word for this. The Woodland Trust themselves tell us that Great Tits and Blue Tits have been thriving in Britain since 1970:
https://www.woodlandtrust.org.uk/trees-woods-and-wildlife/animals/birds/blue-tit/#:~:text=Blue%20tits%20are%20found%20in%20deciduous%20and%20mixed,an%20estimated%20population%20of%20around%203.4%20million%20pairs.
https://www.woodlandtrust.org.uk/trees-woods-and-wildlife/animals/birds/great-tit/#:~:text=Great%20tits%20are%20found%20across%20the%20UK%2C%20in,%2F%20Alamy%20Stock%20Photo%20Signs%20and%20spotting%20tips
Share this: