NOT A LOT OF PEOPLE KNOW THAT
By Paul Homewood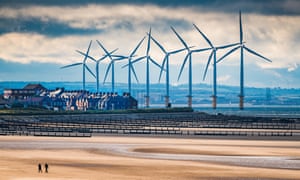 Thousands of British homes will be paid to use electricity during the day for the first time, as wind and solar projects produce a surge in clean energy during the coronavirus lockdown.
On Sunday morning, windfarms contributed almost 40% of the UK's electricity, while solar power made up almost a fifth of the power system. Fossil fuels made up less than 15% of electricity, of which only 1.1% came from coal plants.
Meanwhile, the country's energy demand has fallen by around 10% due to the shutdown of pubs, restaurants, companies and factories across the country, leading to the lowest electricity market prices in 10 years.
Households on a new breed of home energy tariff will even be paid to use electricity during the day on Sunday, because sunny weather and a brisk breeze will help generate ample clean electricity to meet the UK's lower energy needs.
View original post 357 more words