In the shadow of giants: 'Big Wind' has its share of supporters in upstate
'Big Wind' has its share of supporters in upstate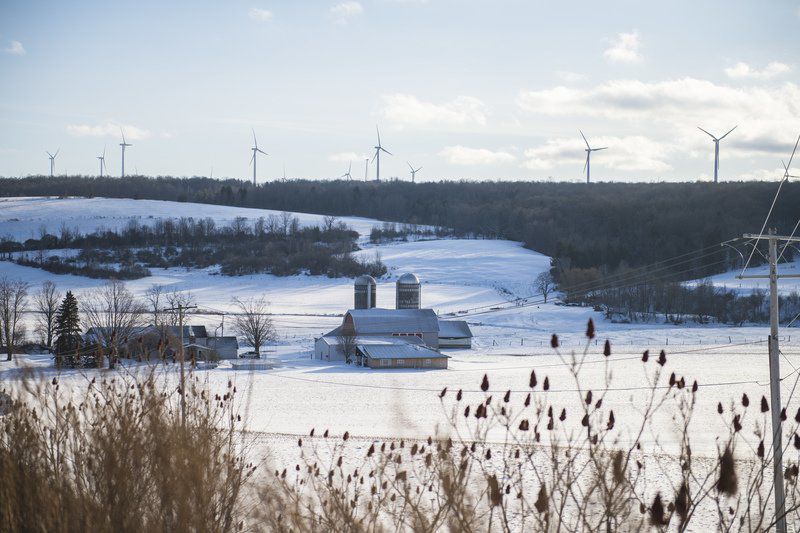 Bill Burke does not see what the uproar over wind turbines is about.
A landowner in Lewis County's Tug Hill region — famous for its astounding snow accumulations— Burke has lived near the 195-turbine Maple Ridge Wind Project since January 2006. Seven turbines are sited on his 600 acres, split between the towns of Lowville and Harrisburg.
So far, he's seen few of the negative impacts — noise, vibrations — that wind project opponents often reference. But he's seen plenty of positives: new jobs, lease payments and lower tax bills thanks to revenue from the developers, EDP Renewables, LLC and Avangrid Renewables.
"It's been nothing but a positive experience," said Burke, a former dairy farmer and Lewis County legislator. "We have 35 well-paying jobs out of the deal, and they'll all local. The school and township and county all benefitted greatly from it. It's just worked out well. The landowners are compensated well."
Cheryl Steckly, superintendent of Lowville Academy and Central School, said the school district has made dramatic improvements with the $27 million it's receiving through a Payment In Lieu of Taxes agreement with the developers. They have added science labs, art facilities and a gallery, smart boards in every classroom, a turf football field and wireless internet. Every student from third grade up now has a ChromeBook for schoolwork.
The district also was able to renovate its outdated facilities, making improvements to the gym, pool, roofing, heating and air conditioning and more.
"The demands on our local taxpayers would not have allowed us to make improvements at the level we were able to," Steckly said. "It's very significant."
"I think people have been able to see the financial impact that this has had on a rural community," she added.
Residents of Sheldon — one of four Wyoming County towns hosting wind projects — have also seen a windfall from Invenergy's 75-unit High Sheldon Wind Farm.
Town Supervisor Brian Becker said the nearly $1 million-per-year, 20-year PILOT agreement meant the town could cut taxes to $0 from 2009 to 2016.
Becker recounted hearing from one resident had been against the project, but changed his mind after his first goose-egg town tax bill.
"There's very few who are still critical of it," Becker said.
That was not the case when Invenergy proposed the project late last decade. At the time, Becker said, many residents were vocally opposed over concerns about the noise, vibrations and shadow flicker generated by wind turbines, and, of course, their impact on the horizon.
To gauge public opinion, Sheldon held an unofficial referendum. Only about 50 percent of the town voted, and of those, 60 percent were in favor and 40 percent against.
"The way I look at it, 80 percent of the people were either for the wind turbines or they didn't care enough to get out and vote," Becker said.
Since the project was constructed in 2009, Becker said Invenergy has been very responsive to residents' complaints relating to noise or shadow flicker. He recalls Invenergy purchased drapes for a woman who experienced some shadow flicker, an effect caused when the turbines spin and cast moving shadows.
"I give them an A-plus rating with their interactions here within the community," Becker said.
Meanwhile, Burke said the effects of turbines are sometimes exaggerated by their opponents.
Turbines do hum as the blades turn, but walk about 100 yards away and that hum turns to a whisper, Burke said. And, the ambient sound of daily life easily drowns out the low hum.
"If you're busy and you've got anything going on at all in your life, you don't notice this stuff," Burke said. "And you really don't hear anything to start with, unless you're really still and you want to hear something."
Burke has noticed shadow flicker, too. But he has found it lasts for only about 10 to 15 minutes per day, and only under very specific conditions.
"The sun has to be just right and no clouds in the sky," he said. "You don't get it every day."
Of course, the visual effect is undeniable. Turbines are big, white sore thumbs over a horizon of tree tops and farm fields.
Still, some don't see them as eyesores. In Lewis County, Steckly said, a private swimming team has dubbed itself the Turbine Swim Club.
"I think people see the turbines are part of our local community," Steckly said. "It's just part of our landscape."
"People have come to accept them," Becker said. "One person who was against them because of aesthetics, he said, 'I don't see 'em any longer; when I do, it's to see what direction the wind is coming from.'"
Burke said that during construction of the Maple Ridge project, people flocked to the Tug Hill region to see the turbines go up. In 2005, turbines were still relatively rare in upstate New York.
"It was fascinating to watch," Burke said. "We used to have a lot of visitors here."
Burke said construction was otherwise "uneventful."
Becker said the work was a major boost to the local economy. For months on end, nearly every restaurant, hotel and apartment in Sheldon and neighboring towns was full.
Altogether, Becker said, most residents are happy Invenergy sited its project there.
"I would recommend it," Becker said. "I feel it is a positive. But this is a democracy, and the people in that community would have to vote yes or no. It's up to them."
COMING MONDAY: Some Wyoming County residents find noise, vibrations from wind turbines unbearable.
FROM THE EDITOR
As part of  the US&J's ongoing coverage of the issues surrounding Apex Clean Energy LLC's proposed commercial wind energy project in the Barker-Lyndonville area, reporter Tim Fenster has been talking to people who live near existing wind farms in New York state, to get a sense of the "pros" and "cons" of wind energy generation that's more than speculative.
Today we're launching a two-part series on the question, focusing first on those who have had positive experiences residing near commercial/industrial wind installations.
Part 2, to be published in the Monday edition, considers the views of those who say their lives were disrupted by an installation.
Invenergy, like all wind companies, sign up land of people who will not be impacted by the turbines because they don't live there. Next they tell the neighbors that they "might as well sign because you will be surrounded anyways" whether or not it is true. Then they offer contracts for adjoining neighbors to put up with negative impacts for a few dollars a day. Neighbors will have to put up with an…"exclusive easement on, over, under and across all of the Owner's Property to permit Generating Units or other wind energy conversion systems on adjacent property or elsewhere to cast shadows or flicker onto the Owner's Property; impact view or visual effects from the Owner's Property; and cause or emit noise, vibration, air turbulence, wake, and electromagnetic and frequency interference"- Invenergy neighbor agreement. So this one land owner says there are no problems. How about the thousands upon thousands of people who do have problems?? People have even abandoned their homes because of the turbines and Invenergy well know it or they wouldn't spell out the problems in their contracts.
Once again, we see the energy-illiterate people who agreed to sell out their once-beautiful New York State townships & countrysides to Big Wind developers focusing their entire argument on money – money that was first picked from the pockets of all U.S. taxpayers and New York State ratepayers, and then recycled through Big Wind developers to these greed-driven people who were willing to forever change the rural character of the area for the antiquated, Enronesque CONSUMER FRAUD that is industrial wind.  It's reminiscent of when the Indians sold Manhattan for a bunch of beads.  FACT: There is NO scientific PROOF that wind is a net societal benefit – NONE!
Newsflash: the annual output of New York State's 20 installed wind factories is averaging around 25% – many days providing nothing at all. $BILLIONS of New York State taxpayer & ratepayer dollars have been wasted littering New York State countrysides with this environmental blight, and still, less than 3% of New York State's electricity supply comes from ALL renewables combined (including wind, solar, geothermal, biomass, etc) Which one of us would buy a car that only operated 25% of the time???  You wouldn't. You couldn't afford to.  It's that simple.  You'd have to own a 2nd car that you could rely on to get yourself to work on time.  It's no different with wind machines. Consumers end up stuck paying for the redundancy of wind factories – which can NEVER replace our RELIABLE, dispatchable baseload power generation sources.  If wind turbines were cars, they would have been relegated to the junk yard a long time ago (where they belong!).
As Sheldon Supervisor Becker admitted, the 'zero Town tax' in Sheldon only lasted 7 years, from 2009 –  2016, and that temporary tax abatement amounted to maybe $100 to a few hundred per household (depending on your property assessment) – hardly an amount worth industrializing the entire area and throwing your neighbors under the bus for.  Becker fails to mention that the Wyoming County tax rate, which is an additional tax on top of a Town's tax, has gone up by over 85% over the past 14 years – up another 9.68% last year, in direct correlation with the installation of wind factories in Wyoming County.  NO meaningful permanent jobs were created in Wyoming County thanks to Big Wind, and the population of the County continues to decline. This is the reality when greed-driven ignorance rules.
Funny to note that the Mr. Burke, the leaseholder from the Maple Ridge who is cited in the article, is now "a former dairy farmer" (apparently thanks to his 'windfall' from the turbines) and a "Lewis County legislator." I'd call that a conflict of interest!  Burke admits, "We USED TO have a lot of visitors here." No doubt!  We know many people who will no longer visit the Tug Hill area. Why travel to enjoy the beauty of the New York State wilderness in a now-industrialized mess that they've decided to turn their towns into up there, when you can go somewhere that's still peaceful and beautiful?!?
As the song goes, "Don't it always seem to go, you don't know what you had 'til it's gone…"